Local Flatbed Truck Driver Jobs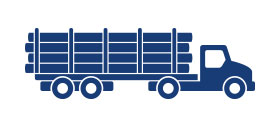 Local Flatbed Truck Driving Jobs are a high demand type of haul. Flatbed truck drivers are expected to be knowledgeable in strapping, chaining, and tarping loads.
Due to the physical nature and requirements of hauling a flatbed trailer, a flatbed truck driver can typically expect increased pay and better benefits.
Flatbed drivers are typically expected to haul many different commodities, and freight consisting of construction equipment, lumber, steel coils, tubing, pipe, pallets, glass, military equipment, and much more!
Most Flatbed Companies provide the neccessary additional training a flatbed driver will need.
The average pay for a Local Flatbed Truck Driver is

$53,000+ a year

.
Click here view Local Flatbed Truck Driving Jobs near you.