Local Truck Driver Job Board Launches to Help Fill High Demand Market
November 27th, 2020

Truck Driver Job Outlook
Truck Driving is one of the largest occupations in America. In 2019, there were around 3.5 million truck drivers, while 8 million people are employed in the trucking industry. Trucking has an excellent outlook, as the industry is always growing, and the demand is continuously increasing. Most people in the industry have already heard of the "Driver Shortage." The driver shortage seems to be an ongoing problem; however, companies have been making changes to attract and retain drivers. As the e-commerce market grows, trucking will continue to be the heartbeat of America.
Covid-19's Role in Freight Movement
Local trucking jobs have increased rapidly in 2020, partially due to the impact of Covid-19. The shutdowns caused by Covid-19 caused a backlog of freight. Local delivery of basic goods to grocery stores, pharmacies, and retail stores came to a screeching halt. Trucking companies were not able to move as much freight due to restrictions. Since restrictions and bans have been alleviated, the need for delivering goods has hit overdrive. There is a greater demand for local drivers now more than ever. In addition to the pandemic affecting the trucking industry, the steady rise in e-commerce like Amazon delivery has also created a greater demand specifically for Local Delivery Drivers.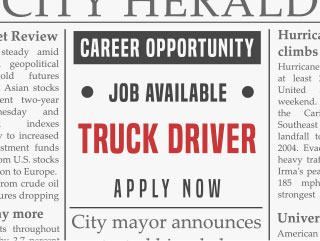 Local Driver Employment
The career search for truck drivers can be tricky, as job hunting is now primarily done online. Drivers can search and apply online via multiple Job Boards like Indeed or Zip Recruiter, or with industry "niche specific" job boards like HiringDriversNow.com. A niche-specific job board is ideally the best way for truck drivers to find employment. These job boards work directly with major trucking companies and provide better details for career options and put drivers in touch with a Recruiter immediately.
LocalTruckDriverJobs.com is built to connect drivers looking for a local route with the companies that have Local delivery job openings. A local truck driving job will get a driver home daily with a consistent route and less time behind the wheel. Drivers can search for jobs by city, state, truck/trailer type, salary/cents-per-mile or hourly pay. If you're a driver, please browse for a local driver job that fits you!