Local Class A CDL Truck Driver Jobs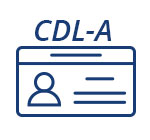 A Local CDL-A license is considered the "universal" CDL, providing the most opportunities for driving several different types of commercial trucks and tractor trailers.
Possessing a Class A CDL is required to operate any combination of vehicles with a gross combination weight rating (GVWR) of 26,001 or more pounds, provided the towed vehicle is heavier than 10,000 pounds.
Local CDL-A Trucking Jobs are in super high demand. Completing trucking school will open up limitless job opportunities. There are many CDL schools available, and many Trucking Companies also have their own school and will put you through training.
Having a Class A CDL and the proper endorsements will allow you to drive the following types of vehicles:
Tractor Trailers
Truck /Trailer Combinations
Tanker Trailers
Flatbed Trailers
& More!
The average pay for a Local Class A CDL Truck Driver is

$55,000+ a year

.
Click here view Local Class A CDL Truck Driver Jobs near you.