Local Truck Driver Jobs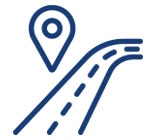 Local truck driver jobs deliver freight locally to customers within their city, or a nearby city. Local truck drivers transport goods of all kinds including building materials, refrigerated goods, dry freight, fuel, household products, and much more. There is such a high demand for local drivers, making it a great career for those with a CDL. A local driver's duties along with driving include maintaining their truck to keep it in good operating condition, planning routes, following delivery schedules, documenting work, and loading and unloading goods.
Requirements for a local truck driver job:
High school diploma or GED
Valid driver's license
Commercial driver's license (CDL)
Clean driving record
Must pass a background check/drug test
Ability to lift up to 50 lbs. at a time
A local truck driver can have a Class A, B or C license.
The average pay for a Local Truck Driver is

$52,000+ a year

.
Click here view Local Truck Driver Jobs near you.